Print diagram
Command File -> Print is used to print diagrams.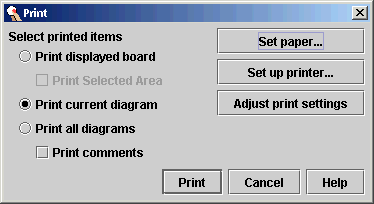 In print dialog it is possible to select, which diagrams to print.
Print current diagram prints just currently viewed diagram.

Print all diagrams prints all diagrams in game.
Both above options can be combined with print comments. Printing all diagrams with comments is quick way to get printout of all commening in game.
Adjust printed diagram
Printing can be adjusted in Print dialog or Options -> Default Print Graphics.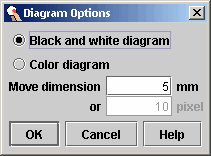 Diagram options include diagram size and color vs black and white selection.
All diagrams share these settings. If different settings are needed for different diagrams, one should use word processor to combine diagrams, see creating publications for more information.
Diagram size is defined in terms of move size. Smallest practical move dimension is around 3.7mm. Smaller moves tend to be too difficult to read.
Printed material is usually best to produce in black and white, as this creates most readable result.