Adjusting Diagrams
Wizard can create diagrams quickly to start game commenting. However when making stylish commented game, diagrams often need some adjustment.
Understanding Diagrams
Diagram start can be seen in game tree in bottom right corner. There should symbol

present indicating that diagram is there.
Add diagram manually
New diagram is added using command Insert > New Diagram. This show dialog, where you can define details of new diagram.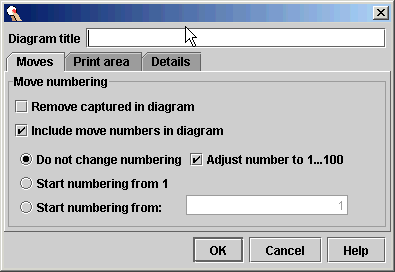 When you have finished changes to diagram dialog, press OK button to store new diagram, or press cancel to abandon diagram. After adding diagram you can see it in game tree.
Deleting diagram
When diagram properties are visible in right hand panel, diagram can be deleted using Delete button there.