GOWritetm 2 Installation in Windowstm
Following goes through each page in Windows installation step by step.
GOWrite 2 Welcome Page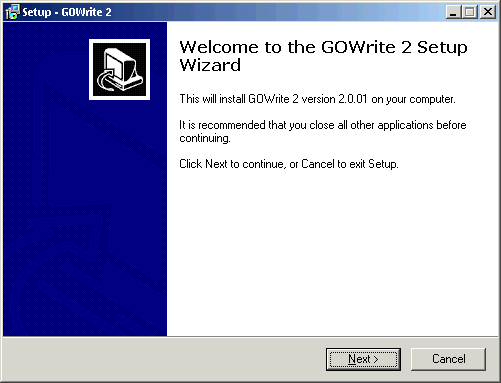 If previous version of GOWrite is running, this screen is not shown, but you are requested to close GOWrite. In each step please push Next button, when ready with current page.
License Agreement Page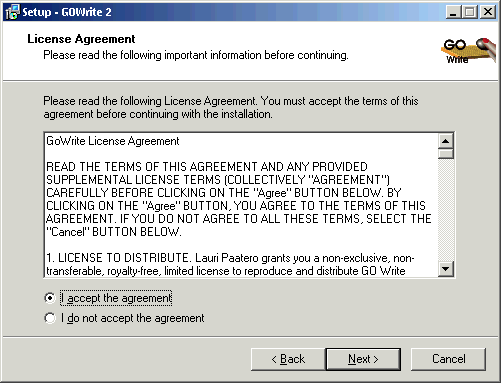 You must indicate acceptance of agreement by selecting accept before continuing with Next button.
GOWrite 2 Information Page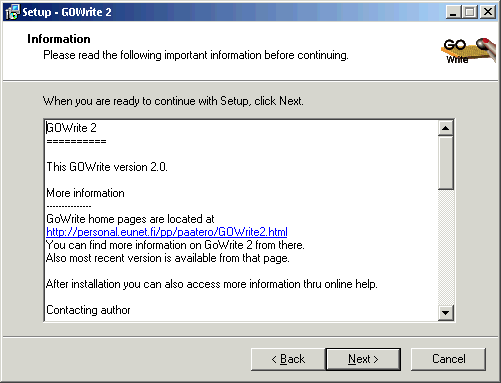 This page contains some information relating to GOWrite 2.
Destination Selection Page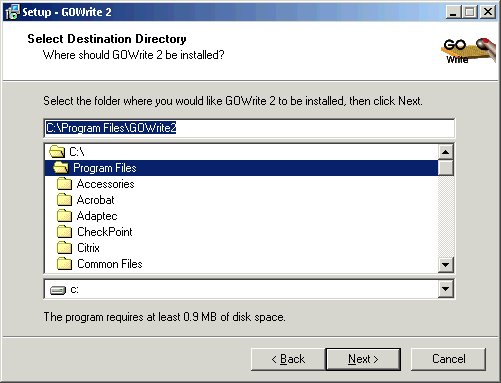 This page allows you to select destination for GOWrite 2 installation. Usually you may just accept proposed default location by pressing Next button.
Installation Components Selection Page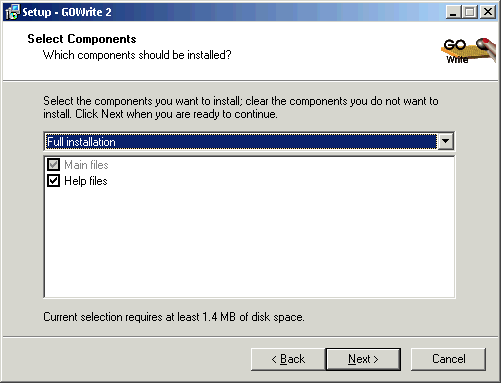 This page allows you to select components to install. In most cases no changes are needed in page, default "Full installation" is good.
Start Menu Folder Selection Page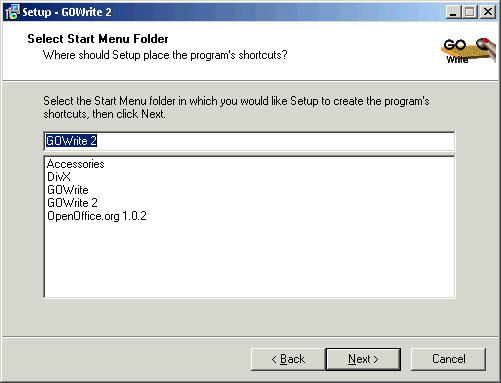 This page allows you to select the menu where GOWrite 2 is accessible using start button.
Additional Tasks Page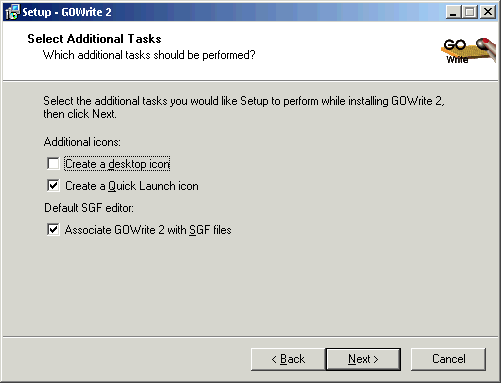 This page allows changes to some important installation options.
Create desktop icon
Selecting this creates GOWrite 2 icon into desktop.
Create Quick Launch icon
Selecting this creates GOWrite 2 icon in toolbar along with Start button.
Associate GOWrite 2 with SGF files
Selecting this makes GOWrite 2 your default SGF editor. If you want to keep you current default editor, please de-select this. GOWrite 2 has alternative extension GW2. After installation you may select it as default extension in GOWrite 2 from Options -> General Settings.
Installation Summary Page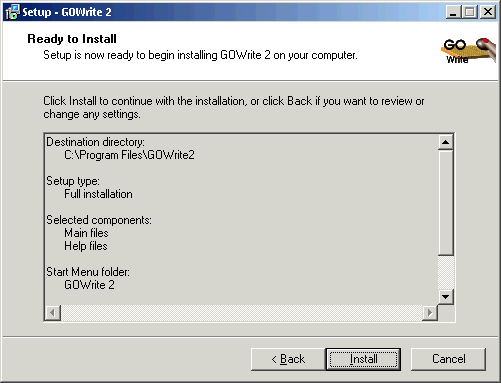 This page summarizes selected installation settings and steps.
After pressing Install button selected installation steps are performed. Depending on case this may include starting Java Runtime installer.
Installation Completed Page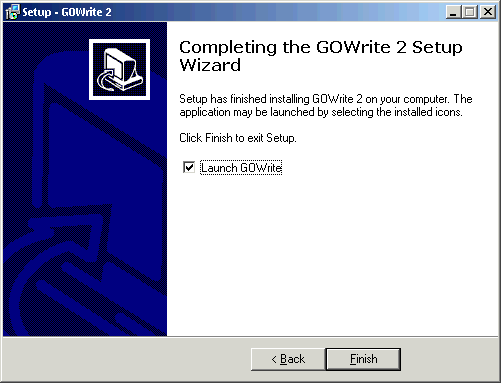 This page is the last page in installation. It will close installer and allows you to start GOWrite 2 instantly.
---
GOWrite 2 installer is created using innosetup version 3. Installer home pages are available at www.innosetup.com.
---
Feedback
Any feedback is most welcome.
.
Trademark Notice
Java and Java-related are trademarks or registered trademarks of Sun.
Windows and MSWord is are trademarks or registered trademarks of Microsoft inc.
GOWrite is trademark of
Lauri Paatero
.