Hactar Go Problems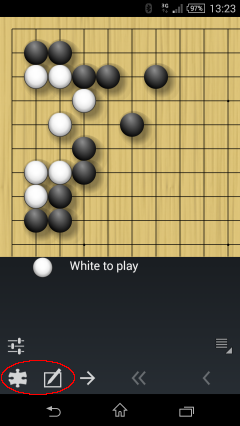 Solving Problems
First time collection is solved, it is processed in-order. After this order of problems is randomized. Problems are rotated and colors swapped randomly.

Hactar can present correct solution move-by-move.

It is possible to explore position by playing out arbitrary moves.
Adding Custom Collection
When adding custom collection of SGFs as problems, please select one of the SGF files. This selects all files in same directory.
Currently requirements Hactar for custom SGF tsumego problems are:
All .sgf files in folder belong to collection.
One problem in each SGF files.
Problem is set up using SGF setup stones. First setup node in SGF file is the problem.
Main game in SGF is correct variation.
Bad SGF variations are marked with with BM property, WV property or TR property.
Comments and Node name property are shown to use, if present in file.
Hactar Go has untested support for goproblems.com problems. Please report any problems to developer!